Last Update: March 23rd, 2019
Apple is planning to release their Airpods 2 in the Spring of 2019. The US price for Airpods 2 will be around $159 as Airpods. Here is a pre-order/in stock/availability tracker for Apple Airpods 2:
Store
Price
Availability
Last In Stock
Amazon


(Authorized Dealer)

–
Pre-order
–
B&H Photo Video


(Authorized Dealer)

–
Pre-order
–
Adorama


(Authorized Dealer)

–
Pre-order
–
Focus Camera


(Authorized Dealer)

–
Pre-order
–
Best Buy


(Authorized Dealer)

–
Pre-order
–
eBay
–
–
–
Apple AirPods 2: rumors, design and potential features
Despite their divisive design, the Apple AirPods sold very well – you just have to jump on public transport and see just how many of them are poking out of music fans' ears on the way to work to note they've overcome any early online ridicule.
But improvements will need to be made in order to justify the release of a follow up.
So far we've heard a number of crazy rumors (including the AirPods 2 being a pair of over-ear headphones akin to the Beats Studio line-up) so it's important to take all the rumors with a grain of salt and a pinch of anticipation.
That said, here's what we've heard so far.
Better wireless connectivity
The anonymous sources that spoke to Bloomberg claimed that both the 2018 and 2019 updates are going to have better Bluetooth 5.0 connectivity thanks to the inclusion of the W2 chip used in the Apple Watch 3.
This is an upgrade on the W1 chip that currently handles the AirPod wireless connectivity.
Siri
By the sounds of things, the Apple AirPods arriving in 2018 (AirPods 1.5?) are going to feature baked-in voice activation, meaning you'll be able to access Apple's voice assistant by just uttering "Hey Siri". We haven't caught wind of when, exactly, that feature will go live, but chances are good it will be available alongside the new wireless charging case in September or October of 2018.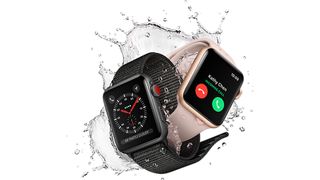 Waterproofing
Still working from the Bloomberg report, it looks like the 2019 update is going to have waterproofing, although it looks like it's going to be splash and rain resistant rather than true waterproofing like the Apple Watch, so no taking them in the pool with you. Still, that would make the second-gen AirPods a better workout-based headphone, and would mean that they'd be safe to wear around the pool without worrying about them getting splashed.
Fitness tracking
Back in July Apple filed a patent for biometric sensors which would allow the AirPods 2 to take on fitness tracking capabilities like those seen in the Jabra Elite Wireless. This followed another patent filed in March.
Perhaps more interestingly than heart rate sensing, the sensors would also allow the AirPods 2 to measure stroke volume, which combined with heart rate would allow it to calculate your cardiac output.
Essentially this means the AirPods 2 would theoretically be much better at establishing how fit you are overall rather than just measuring your heart rate.